The 27th International Cryogenic Engineering Conference and International Cryogenic Materials Conference (ICEC-ICMC) was held in the Oxford, UK at the 3rd-7th Sep 2018 by International cryogenic engineering committee. In this conference, Dr. XU Jingyuan from Technical Institute of Physics and Chemistry (TIPC) was awarded the International Youth Academic Award "Gustav and Ingrid Klipping Award" for her excellent research work in thermoacoustic refrigeration technology (Link:http://www.icec27-icmc2018.org/events/icec27-icmc-2018/custom-40-c3727f2e36794ac0bb91b26e73687e4e.aspx).
The ICEC-ICMC is held every two years, aiming to exchange the progresses on the cryogenic engineering and cryogenic material technology. The 27th ICEC-ICMC was held in Oxford, United Kingdom. More than 500 peoples attended this congress from 40 countries."Gustav and Ingrid Klipping Award" was established by the International Cryogenic Engineering Committee to reward outstanding young scholars (under 35 years of age) who have made outstanding research work in the field of cryogenic engineering. The award is judged by a reward committee composed of authoritative scientists in the field of international cryogenic engineering. It is selected once every two years and one person is selected each time. The reason for Dr. XU's winning is "Dr. XU was an outstanding candidate, with an extremely impressive, recoding formidable achievements by every measure, be it patents or publications or participation in conferences".
Dr. XU studied Ph.D. in the LUO Ercang's research group of TIPC from 2013 to 2018, during which his carried out research work on novel thermoacoustic cryogenic technology. She conducted theoretical research on the matching principle and thermodynamic characteristics of the novel thermoacoustically-driven cryocooler, and developed two high-efficient thermoacoustic natural gas liquefaction systems and one cascade pulse tube cryocooler capable of power recovery. The measured performance has obtained the best results reported by the similar system. The relevant research results were published as the first-author in the international authoritative journals for energy field such as Applied Energy, Cryogenics, Energy and Applied Thermal Engineering. Now, Dr. XU Jingyuan is supported by the China Postdoctoral International Program and is conducting postdoctoral research on thermoacoustic refrigeration technology in the liquid helium temperature range at University of Cambridge, UK.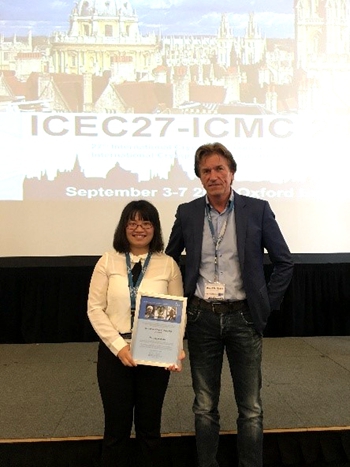 Prof. BRAKE (The president of ICEC-ICMC) delivered the certificate to Dr. XU.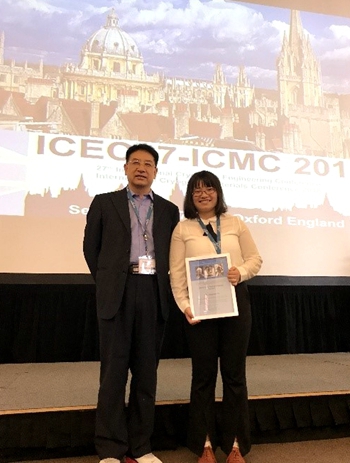 Dr. XU with her tutor Prof. LUO.