Invited by the CAS Key Laboratory of Bio-inspired Materials and Interfacial Science and the TIPC Youth Forum, Prof. Polina Anikeeva from MIT delivered a seminar entitled "Electronic, Optical, and Magnetic Tools to Study the Nervous System" at TIPC on October 10th, 2018.
Prof. Anikeeva mainly focuses on
the field of Bioelectronics, and specifically the development of materials and devices that enable recording and manipulation of signaling processes within the nervous system
.
During the seminar, Prof. Anikeeva presented his latest research on
the development of optoelectronic and magnetic materials and devices for recording and modulating activity of neurons in the brain, spinal cord, and peripheral organs
. Finally, he enthusiastically discussed with faculties and students of TIPC.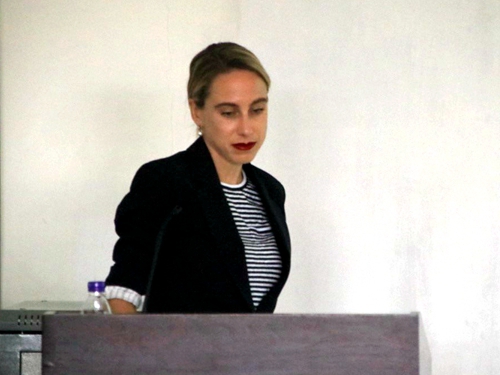 Prof. Anikeeva was giving a report.