Invited by the International Joint Laboratory of Cryogenics Science and Technology, Public Technical Service, CAS Key Laboratory of Cryogenics and the TIPC Youth Forum, Dr. Richard Rusby from the National Physical Laboratory (NPL) delivered a seminar entitled "Thermometry with rhodium-iron" at Langfang Campus of TIPC, October 17th.
Dr. Rusby joined the NPL on graduating from Oxford University, and obtained his Ph.D. at Imperial College, London, during which time he developed the rhodium-iron resistance thermometer. This was the first application for new helium gas thermometry and vapour pressure thermometry between 0.5 K and 27 K, and became the recognized reference for cryogenic thermometry in this range. In 1981, Dr. Rusby became Head of Temperature Standards at NPL and the UK representative on the Consultative Committee for Thermometry (CCT). He played a significant part in the evolution of the International Temperature Scale of 1990, and later presided over the CCT Working Group on Thermodynamic Temperature Determinations. Since retiring in 2004 he has continued to work as a consultant at NPL.
During the seminar, Dr. Rusby elaborated on the importance of cryogenic metrology research, which plays an important role in biomedical science, liquefaction of gases, large facilities (such as neutron sources, particle accelerators, etc.). He then introduced the development of low-temperature primary thermometry, and focused on the measurement characteristics of resistivity and sensitivity of thermometers made of metals and alloys (such as platinum and rhodium-iron) in the temperature range below 25 K. In addition, he talked about the structure of the rhodium-iron resistance thermometer, important procedures during the installation process and the influence of the selection of measurement parameters on the uncertainty of temperature measurement. Finally, he introduced the application of the rhodium-iron resistance thermometer in the constant volume gas thermometry and fixed point device built by NPL. He also pointed out the favourable characteristics of the single-pressure refractive index gas thermometry currently under construction in China and the key points which need to be considered in the application of the rhodium-iron resistance thermometer as a carrier in the international data comparison.
Dr. Rusby discussed with teachers and students in depth on the relevant issues, patiently answering their questions about them.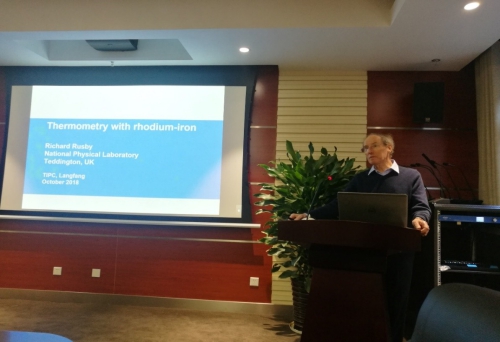 Dr. Richard Rusby was giving a report.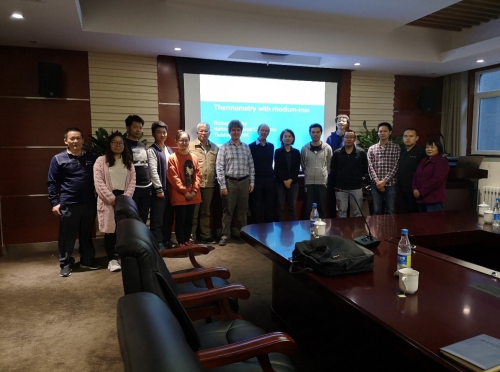 The group photo of speaker and the audience.