Technical Institute of Physics and Chemistry, Chinese Academy of Sciences (TIPC, CAS) has always attached great importance to the academic exchange and cooperation with international science and technology communities.
At present, TIPC actively develops extensive international cooperation and exchanges with the United States, Germany, France, Russia, Japan, Israel, Hong Kong SAR and other well-known research institutions in the areas of photochemistry, cryogenic engineering, nonlinear photonics, artificial crystals, nano-materials and others.
About 60 foreign scientists visits TIPC each year and TIPC sends scholars to visit other countries, the total number of which is about 60 persons each year. There are 8 scientists of TIPC holding the post in international scientific organizations and 27 honorary professors & visiting professors in TIPC.
TIPC singed memorandums on collaborative education for graduate students with France, Japan and other countries and many foreign students are studying in TIPC. We also carry out many important international projects.
International Conference on Organic Photonics & Electronics 2009/ The 11th
International Conference on Organic Nonlinear Optics (ICOPE 2009 / ICONO 11)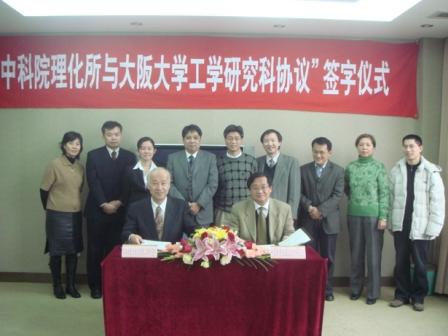 Ritual for "Memorandum on Collaborative Education for Graduate Students
between TIPC, CAS and Graduate School of Engineering, Osaka University"